Waltco Liftgate Cylinders
Your family owned Waltco Liftgate Cylinders Distributor. Welcome to our Family.
Shop Waltco Liftgate Cylinders Parts by Number
Need a new cylinder?  No problem – we have your back.  We carry a full line of Waltco lift gate cylinders ready to ship to your doorstep… or wherever you may be broken down.  Check out our most common lift gate cylinders.  Your lift gate's serial number and model can be found on the passenger side of the lift gate.  Waltco's serial numbers will be either a 6 or 8 digit number.
If you get stuck, call us.   (774) 266-8892
Part Number      Waltco Lift Gate Series                  Description

43020578          MDL, DS, PTN, SB, DT                2″X27-1/8 W/HEAD & SPROCKETS
43330117          MDL, DS, PTN, SB, DT                2.5″X27 LG HEAD AND #60 SPROCKETS
43010123          MDL, DS, PTN, SB, DT                2″X22-1/2 W/HEAD & SPROCKETS
43216800          MDL, DS, PTN, SB, DT                CYLINDER, MDL POWER CLOSURE
39580050               MDR (most models)               Lift Cylinder
32680051             WDL (RM)                               Lift Cylinder
32680050              WDL (Pre RM)                        Lift Cylinder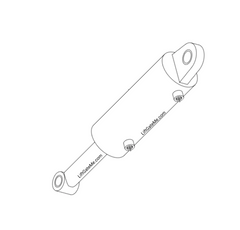 Find Waltco Liftgate Cylinders Parts by Model Style