Liftgate Oil Guide for all brands
Changing your liftgate's hydraulic oil on a routine basis is one of the most effective preventative maintenance procedures to keep your liftgate operational.

Oil impurities, lack of use, improper selection, and contamination through mixing of oils, are the many issues we see across the industry and some main causes of breakdowns. These issues can be avoided with a little knowledge and regular checks.

Let's go through some of the most common questions, answers, and suggestions related to liftgate oil so that your liftgate fleet can remain consistently operational for your business.

What you'll discover in this article:
What is Liftgate oil?
Why use Liftgate oil?
Does the oil grade matter?
Should I mix oils?
What is Viscosity?
How does warm vs cold weather affect oil?
How often should you change the fluid?
Where should you check for hydraulic oil leaks?
What liftgate oil do you need?
Want more guidance like this? Keep in touch.
In other words, it's hydraulic fluid. However, it's recommended to use hydraulic fluid that is specifically made for liftgates and to avoid those used in other applications.
It's the lifeblood of the Liftgate. Hydraulic oil acts as a power transfer medium and lubricant. Without oil, your liftgate would be powerless. And even with the improper oil, on page 24, Anthony notes that improper oil in the hydraulic reservoir could cause the platform to lower extremely slowly.
Does the oil grade matter?
Yes, it absolutely does. Liftgate hydraulic oil has its own weight and grade, just like the oil used in other automotives. To confirm what oil grade is recommended for your specific liftgate, contact your manufacturer or email us your model and serial number.
Click here for guidence on locating your liftgate's serial number.
No! Contamination can cause fluids to break down which can lead to poor performance or, worse, another breakdown. If contamination occurs, a full system flush is recommended. This can be costly and difficult to perform! When your liftgate is serviced by an outside vendor, always confirm which hydraulic fluid was used so that you can prevent contamination of different oils.  
Viscosity is the measure of a fluid's resistance to flow. Water has a low viscosity so it moves quickly unlike tar which moves slow because it is very viscous. Example: Anthony recommends a "low viscosity, hydraulic fluid in the power unit reservoir" (page 13 here) to stay operational.  
How does warm vs cold weather affect oil?

Because temperature affects the viscosity of oil, the climate you are in has a large impact on your oil. In warm climates, the viscosity of oil will decrease causing it to flow faster. In most cases, at cold temperatures the fluid should be thinner and in warm temperatures it should be thicker. Understanding how temperature affects oil could be the simplest thing to avoid a major breakdown costing you thousands. Some manufacturers do specify which fluid ratings to use for what climate.
How often should you change the fluid?
Short answer - it depends!
Palfinger recommends replacing oil after the first 500 cycles, and then on a yearly basis in the fall before winter begins (see page 17 of one manual here).
During semi-annual inspections, Thieman recommends that if the hydraulic oil in the reservoir is dirty, drain the oil from the hydraulic system and flush the entire system (see page 6 of this manual).
Anthony Liftgates, on page 13 of this manual, recommends changing "the fluid if it is contaminated or dirty, or every 12 to 24 months, depending on use."
At LiftGateMe, we recommend following the manufacturer's guidance because there are many factors to consider such as:
How often the liftgate is used. More use means changing the oil more often; however, if the liftgate is used less frequently, the oil should still be changed on a regular maintenance schedule because many fluids break down over time.

Signs of wear or rust around the hydraulic cylinder rods. If the moving parts of the system have contaminants on them, it can enter the system.

Hydraulic leaks. If fluid can exit the liftgate through a line, cylinder, or other place, contaminants can enter from that point as well.

Any sign of water, frothy fluid, milky fluid, or any other fluid in the reservoir or system.

The surrounding climate. If your liftgate is operated and stored outside in a climate where snow and salt is prevalent, it will cause more corrosion and opportunities for contamination.
These are just a few examples of what you consider during routine maintenance procedures.
Where should you check for hydraulic oil leaks?
Thieman, on page 5 of this manual, recommends to check for oil leaks in the following areas:
Lift cylinder

hydraulic hose-replace if it shows signs of wear or cracking.

Hydraulic fittings-tighten or replace as may be required to stop leakage.
Maxon Liftgates, on page 12 of their BMR-A manual, recommends checking for oil leaks on the following:
Cylinders

Fittings

Hoses

Valves

Oil filter

Fittings inside of pump box
Thieman also recommends that when checking the oil level in the pump reservoir, the liftgate should be in the lowered position and the platform should be at ground level.
What liftgate oil do you need?

You should always use the specified hydraulic fluid that is recommended for your particular liftgate. That information can usually be found in your liftgate's owner's manual. If you don't have that and don't see what you need here, Send us an email, we'll let you know
If you do not have access to a manual, contact us or your manufacturer along with the liftgate's model and serial number. For general reference we've put together some basic recommendations per each manufacturer.
Click here for guidence on locating your serial number.
Maxon Liftgate Oil Recommendation
For Maxon's BMR-A models, on page 14 and 15, they recommend a Grade ISO 32 for temperatures between +50 to +120 degrees fahrenheit. Below +70 degrees fahrenheit, they recommend a Grade ISO 15 or MIL-H-5606.
We've added a snapshot of their recomendations found in their GPT-3 manual (page 13) here as well.
(Cllick image to zoom in)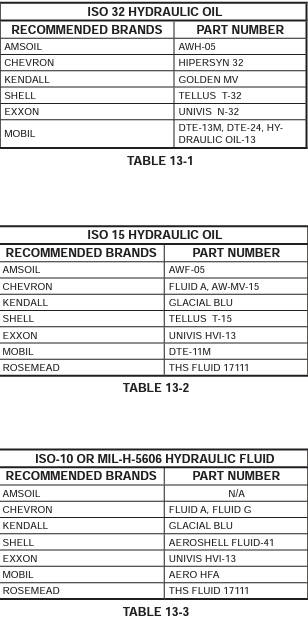 Palfinger Liftgate Oil Recommendation
Palfinger has great recommendations of their manual on Page 17 here.
(Cllick image to zoom in)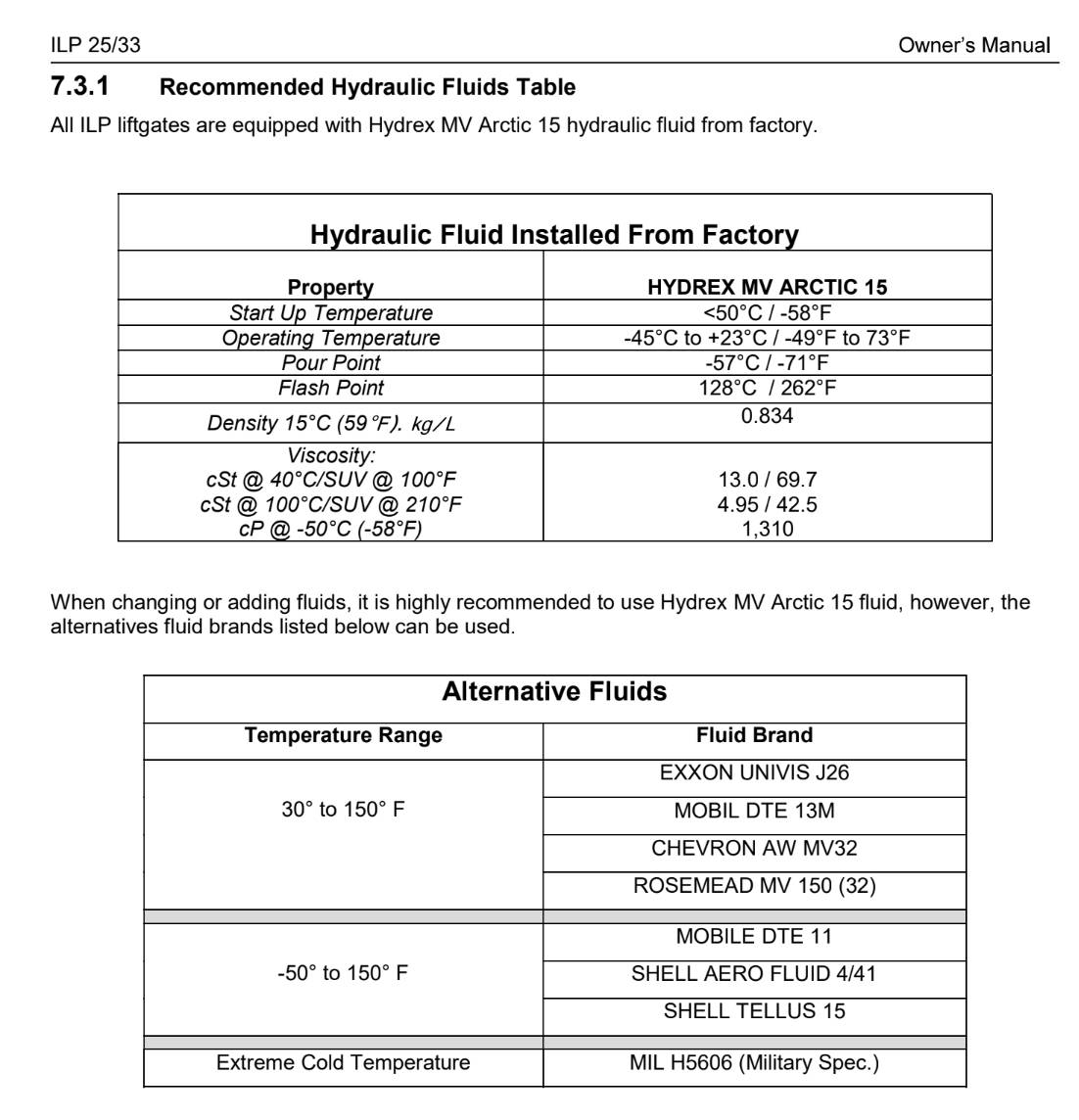 Thieman Liftgate Oil Recommendation
Thieman has great recommendations on page 6 of their manual here.
(Cllick image to zoom in)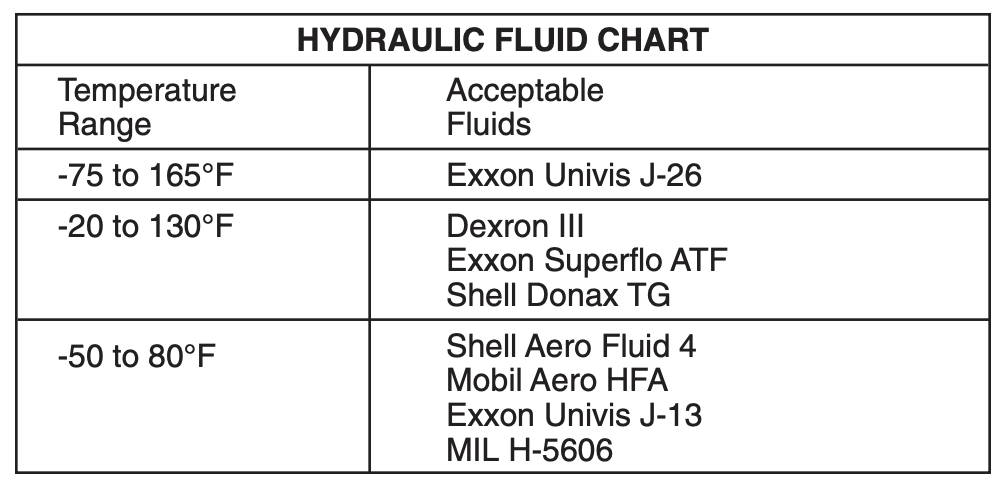 Disclaimer: The content of this article and website is available for informational and educational purposes only. It is not intended to be a substitute for the professional advice of a mechanic who has personally inspected your vehicle, liftgate, or any property, nor does it create a relationship of any kind between LiftGateMe and you. Every situation may be different, and LiftGateMe does not make any warranties, whether express or implied, as to the accuracy, fitness, or applicability of the information, liftgate, vehicle, parts or other property, portrayed in this article and website. LiftGateMe makes no guarantee of results or outcomes. LiftGateMe will not be liable for any damages related to personal injury, property damage or loss of any kind that may result from the use or reliance of our information and/or any automotive parts represented. You are using the information and automotive parts portrayed in this video solely at your own risk.
Thanks For Reading!
- Your Team at LiftGateMe